When you join the Chamber, you are investing in both your business and our community. Members of the Holly Hill Chamber of Commerce are exposed to a myriad of benefits specifically-designed to help make your business successful.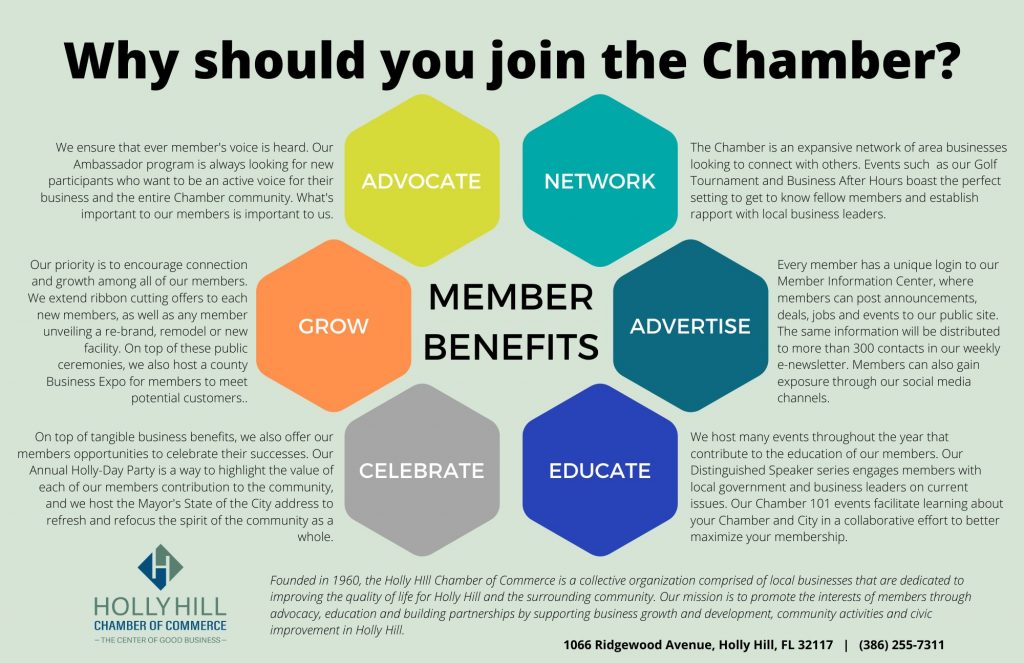 Networking Opportunities
Business After Hours: Held each month at a local business, this is the perfect opportunity to meet local business owners while also supporting a member business. Contact our office to sign-up to host a Business After Hours event - a unique opportunity to bring the community to YOU!
Morning Mixers: This is the same event as a Business After Hours event, but it is held in the morning by a member business. A great opportunity for those who can't get to the evening events.
Distinguished Speaker Series: This large-scale breakfast is held quarterly, and features a leader from the Holly Hill and Volusia County community, presenting on current issues.
Chamber 101: These small sessions provide a deeper understanding into Chamber membership, business ownership, and other educational opportunities. Topics of each meeting vary, and space is limited.
Chamber of Commerce Golf Tournament: Held annually at Riviera Golf Club, this is an opportunity to mesh business with pleasure in a fun setting.
Volusia County Chamber Alliance Business Expo: The largest business expo in Volusia County, only active members of area Chambers of Commerce can provide a booth at this event. It is open to the community, with over 1,000+ guests in attendance. The perfect opportunity to market your services!
LEADS Groups: LEADS Groups meet twice a month for lively and effective networking, motivation, information, lead sharing, referrals, and peer coaching. Available only to Chamber members, participation is by roundtable membership only, with no direct competitors involved in the same group.
And more!
Advertising Platforms
Directory: A simple online tool which alphabetically lists members by products or services offered. Stand out from other businesses when customers are looking for your service or product by posting media and links.
E-Newsletter: Our weekly newsletter distributed via email to all our member contacts offers a no-cost opportunity to promote your business activities, announcements, events, and special offers.
MemberCenter: Upload news releases, deals, events, logos, pictures, and videos to our website via your personal login.
Ribbon Cuttings: Openings a new location, recently remodeled or celebrating a milestone anniversary? Show off your business! Pick the date and time and we'll promote it on our website, on our calendar, in our newsletter, and to our social media sites. Photos are uploaded to our Facebook page to offer greater exposure for your business.
Social Media: Utilize our Facebook and Instagram pages to promote your business, events, and specials. We can post pictures, flyers, announcements, and videos. Members also have access to a a Social Media takeover day on behalf of the Chamber!
Exposure
All Holly Hill Chamber of Commerce members are featured in the member directory and receive a member profile on the Chamber website. This member profile allows members to include:
Up to six images
One YouTube video
A description of the business
Contact information
The ability to offer discounts as well as links to their website and social channels
Having your profile on the Holly Hill Chamber of Commerce website helps increase your SEO (Search Engine Optimization). Members will receive a report of their SEO due to Chamber membership with their renewal details each year.
Member Only Access
We provide our members with a tool, called ChamberMaster that allows you to:
view your account 24/7
pay invoices online
upload information (photos, descriptions, social media) for your member page on our website
access to our Member Post Board to announce events, programs, classes, etc. to your peers
provides a listing of our incoming conventions
access to the member directory and mailing lists
ChamberMaster training videos coming soon!
Sponsorships, Advertising and Communication
We support our members by providing exclusive sponsorships and advertising opportunities through our events, publications and social media channels.  We assist in publicizing ribbon cuttings, grand openings and milestone business anniversaries.
Members receive weekly e-reminders which provide members with up-to-date information on upcoming events, new members, planned ribbon cuttings/grand openings, changes in legislation and other important information. Members also receive a monthly, in-depth newsletter about pertinent Chamber and City information.
Advocacy and Legislative Representation
We serve as the "voice of business" at all levels – local, state and federal. We speak for and represent the interests of area businesses and educate members on the government issues that may affect them.
The Holly Hill Chamber of Commerce offers opportunities for those in our community to step into local Leadership roles within the Chamber. Chamber Committees are dedicated to areas of importance to our members and community. Some of them include: Board of Directors, Ambassador Program, Chamber Volunteer Program, Special Events Committee, and more.